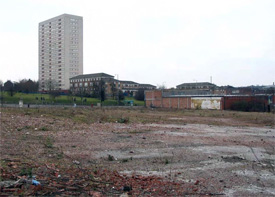 Tesco has submitted plans for a new superstore on the edge of Birmingham City Centre, within walking distance of the Jewellery Quarter and much of Ladywood.
The land, bounded by Camden Street, Icknield Street and Spring Hill, has been derelict since 2002 when the former Brookfield shopping precinct was demolished. It had long suffered from a lack of tenants and vandalism. Tesco have owned the land for some time so an application has been expected.
But the application is for more than just a Tesco!
The existing Spring Hill Library is sympathetically blended into the development, benefitting from a new glazed entrance and external lift. There will also be four smaller retail units facing Spring Hill with office space above, a small number of maisonettes on the Brookfields side of the development and undercroft car parking.
I'm cautious of new supermarket developments and the impact they can have on local businesses. However in this case I think the development will benefit surrounding businesses - and help provide new jobs in the constituency with the highest unemployment in the UK.