Update: THURSDAY 7 JAN:
There is no blanket ban across Birmingham, but the following local schools will be closed on Thursday:
Calthorpe Special School, Highgate
City Road Primary, Ladywood
George Dixon International School, City Road
George Dixon Junior and Infant School, City Road
Lillian de Lissa Nursery School and the Children's Centre, Bellevue, Edgbaston
Mansfield Green School, Aston
Oratory RC Primary School, Ladywood
Sacred Heart Catholic Primary School, Birchfield
St John's CE Primary School, St Vincent Street West, Ladywood
Summerfield Primary, Winson Green
William Cowper Community Primary School, Newtown
Yew Tree Community School, Aston
WEDNESDAY 6 JAN:
The following local schools will be closed on Wednesday due to snow:
Oratory School, Ladywood
Heartlands Academy, Nechells
Chad Vale Primary School, Edgbaston
St. Clare's Catholic Primary School, Handsworth
Westminster Primary School, Handsworth
UPDATE (Wed 06/01/10, 7.25am):
Also closed:
Nelson Primary, Ladywood
St Clements C of E School, Nechells
Sacred Heart Catholic School, Birchfield
St George's Junior & Infants, Newtown
St George's School, Edgbaston
Plus, all campuses of the Birmingham Metropolitan College (Sutton Coldfield, Matthew Boulton, Josiah Mason, James Watt) are closed on Wednesday.
For a full list of Birmingham and West Midlands school closures, click here.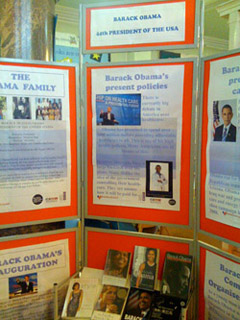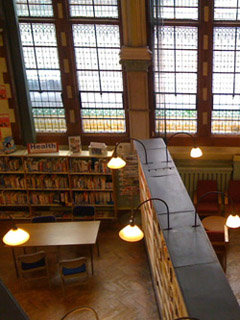 Earlier this week I attended a meeting for the Cardinal Newman Heritage Project at Spring Hill Library, one of the stakeholders. Although I have passed it many times, I had never been inside.
Just a few minutes walk from the Jewellery Quarter, Central Ladywood and Summerfield, the impressive building housing Spring Hill Library is well worth a visit. Inside you'll currently find a series of displays celebrating Black History Month, such as one on Barack Obama (pictured). The library also offers books in Urdu, Punjabi, Hindi, Gujerati and Bengali as well as free internet access. You can book a free one-hour internet taster session.
Although early on a Monday morning, it was good to see the library busy. Spring Hill Library is a great resource for the people of Ladywood and Hockley and long may it continue!
I will be running an exhibition on the Cardinal Newman Heritage Project at Spring Hill Library on the afternoon of Thursday 28th October, so please do stop by to find out more about the project and to take a look around the library.
At today's regional launch of the Digital Britain report, Lib Dem group leader (and Deputy Leader of the City Council!) Cllr Paul Tilsley revealed Birmingham will create a "Digital District" spanning the Digbeth / Eastside part of the city centre.
He said, "Birmingham will create a 'Digital District' that brings together the innovative, learning and creative sectors enabled through a next generation hi-speed broadband infrastructure. Spanning several hundred acres from the creative industries in Digbeth, our science and technology sectors at Birmingham Science Park and our world class developments at Eastside, it will provide an exciting environment for our creative industries and young entrepreneurs."
Now I would say Digbeth, specifically the growing Custard Factory complex, together with Aston University and the Millennium Point campus of BCU already meet that description. So what else will be on offer above and beyond high-speed broadband?
While I'm not quite as sceptical as B:INS, I do hope this isn't just a rebrand of what is already there, and there will be some form of investment programme unveiled to provide the meat on the bones.
Let's wait and see...
Update: You can hear the Cllr Paul Tilsley speech here courtesy of Rhubarb Radio.