This blog post is intended for the 6,827,938 people who voted Liberal Democrat on 6th May. I know some are angry and upset over the coalition deal and for those I will try and explain why you should give us - and the coalition - time to prove it can work.
I can't deny I am a mixed bag of emotions right now. When I joined the party in 2000 it was with the hope of seeing Liberal Democrat values and policies put into practice. And ten years later, that's exactly what we've got. The knowledge of that, with the sight of Liberal Democrat politicians that I know and trust taking seats at the cabinet table, is a source of massive pride for me.
But, like many of you, I instinctively don't like and don't trust the Conservatives at a national level. But if Clegg, Cable and the negotiating team are willing to, then I will place my trust in them. For the time being.
Let us remember, the situation we were given was not of our making. We were given this situation by the electorate. Whilst the idea of a "rainbow coalition" was appealing, we all know the maths simply couldn't work. Even if we could have cobbled together a partnership, it would have been brought down in an instant by just a few rebels. The markets would have reacted, and the country would have suffered.
When you also bear in mind Labour were not seriously interested in anything other than going into opposition, we had just two realistic options. To let the Tories govern on their own or to try and put Liberal Democrat influence into Government.
The Liberal Democrat election campaign was centred around delivering real change around four clear priorities: fairer taxes, a fairer education system, prioritising the economy and building a sustainable future, and changing our political and electoral system. Nick Clegg was entirely open and honest every step of the way that any potential deal would have to prioritise those four policy areas.
That's exactly what we've got out of this coalition deal.
In fact it goes further than I had expected. We have the promise of a directly elected House of Lords using Proportional Representation, with a referendum on AV for the Commons. Far from perfect, but an immense step forward and far more than I would have expected from the Conservatives. We have our £10k income tax plans adopted in part. We have our "pupil premium" policy adopted. And it looks as if we have Vince Cable in position to sort out our failed banking system.
The alternative would have been a minority Tory government that did not deliver any of those things. I for one appreciate that. I suspect that in time the majority of Liberal Democrat voters, and indeed the British public, will also.
For those Lib Dem members and supporters frustrated that every piece of our policy hasn't been included, or quibbling about detail, I say this - GET REAL. When you consider the number of votes and seats we got compared to the Conservatives, Nick Clegg and the negotiating team have done an amazing job to get so much of our policy into this deal. Some long-standing policy hasn't made it and for that I am genuinely sad, but also realistic about the situation we find ourselves in.
We are now a party in government and tough choices will have to be made every single day. Today I have made the tough choice to back this deal that gives Liberal Democrats what we have always wanted - the chance to significantly influence government policy - whilst at the same time limiting the extremes that a Tory government would have delivered.
We fight for Proportional Representation, which would produce this kind of Government time after time. This is our one chance to prove coalition government can work. We must not be frightened, we must not bicker. We must take this incredible opportunity to show the country what Liberal Democrat policy can do.
Let's do this!
Just days ahead of Copenhagen, the Conservative PPC for Birmingham Ladywood has questioned the science behind the man-made climate change argument.
As the City Council was passing the "Birmingham Declaration on Climate Change", Cllr Colin Hughes went on a libertarian rant accusing his Council colleagues of using climate change as an excuse to boss people around.
Whilst I agree complex government "just for the sake of it" is unnecessary, solving issues such as climate change requires cross-party support and strong leadership at all levels of Government. This is exactly what Birmingham has done - something which should be celebrated, not belittled.
According to Adrian Goldberg's Stirrer website, Hughes said:
"Climate change devotees still rely on these models, despite the fact that we know these models to be wrong, for end-of-the-world predictions to justify their proposed actions.
"What this means is that we should be very careful before spending huge amounts of the public's money on schemes that may not be necessary.
"The research needs to go on because there is huge gaps in our knowledge and understanding but while the science is lacking there are authoritarians on all sides of this chamber who can't help but to use this issue to boss people around and to tell others how to run their lives.
"They've jumped on this bandwagon and use it to excuse any and all government interference into private lives. We are elected by the people of Birmingham and we owe them better leadership than that."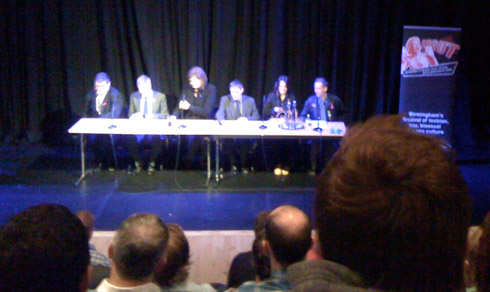 An all lesbian and gay panel took to the stage in Birmingham last night for Queer Question Time.
Peter Tatchell (Green) - Human rights activist and Parliamentary Candidate for Oxford East
Nikki Sinclaire (UKIP) - MEP for the West Midlands and candidate for her party's leadership
Iain Bowen (Lib Dem) - Birmingham City Councillor for Acocks Green ,
Philippa Roberts (Lab) - Parliamentary Candidate for Hereford
Gareth Compton (Con) - Birmingham City Councillor for Erdington
Chairman Steve Ball kicked off the debate, in the style of BBC's Question Time, in front of a decent crowd of around 150 at the Hippodrome's Patrick Centre. Audience members were asked to submit questions on the way in and as these things often do, the panelists and audience members then veered off into other directions during the debates. Some of the subjects discussed included equalities legislation, tolerance, gay pride events, the BNP, homophobia, education and section 28, the media and the police.
The panelists agreed on a lot of issues but there were some interesting clashes throughout.
Peter Tatchell was the clear winner for me. He barely touched on Green party policy, concentrating more on gay rights in general. He also spent much of his time picking up on the policies of the Labour government, doubtless with one eye on the political situation in Oxford East and Brighton Pavilion. Peter spoke well and was well received by members of the audience from every political hue.
Nikki Sinclaire caused less upset than her last "appearance" at Queer Question Time, but was still controversial. She appeared to defend her UKIP MEP colleague Mike Nattrass when he was accused (by both Gareth Compton and Iain Bowen) of being involved in the controversial New Britain Party (he stood as the "New Britain" candidate in Dudley West in 1994). She also did her best to dodge what specific policies UKIP have on LGBT rights. I found her overall attitude a mix of confrontation and naivety, which for someone with leadership aspirations surprises me.
Iain Bowen spoke well with good local knowledge and personal thoughts, rather than towing the party line, which I always like to see. Although he struggled with one or two questions I felt he put the Liberal Democrat position on equality across well. He was also passionate about the community and the police needing to work closer together, which prompted some heckling from the audience.
Philippa Roberts performed well defending the record of the Labour government on gay rights, for example civil partnerships, provision of goods and services, etc. However, she was uncomfortable when challenged (mainly by Peter Tatchell) on the current Equalities Bill working its way through Parliament.
Gareth Compton began very well but faded towards the end as he got drawn into bickering with Nikki Sinclaire. On more than one ocassion he made the verbal assumption that the next Government would be a Conservative one, which did not sit well with the audience. He also made the mistake of heckling Nikki Sinclaire for UKIP's European partners, not sensible considering the company the Tories keep.
For me the most interesting question was whether "gay pride" had replaced "gay politics". A lot of the battles have been won and therefore politics has fallen down the ladder when it comes to Pride events. But Birmingham Pride this year was far more party political than I remember it being for a long time. I helped to organise the Liberal Democrat presence, LGBT Labour also ran a stall and some Green party activists were in attendance too. In addition to this no less than THREE candidates in the upcoming European elections were there, Liz Lynne (Lib Dem), Nikki Sinclaire (UKIP) and Neena Gill (Lab).
I nearly choked on my porridge this morning as I was reading the latest post from LadywoodBlue, in which he claims the Conservatives could take Ladywood at the next local election.
You can play with statistics and pie charts all you want, but the facts from the European elections were: The Labour AND TORY vote went down. The Liberal Democrat vote went up.
For the Tories to be losing votes at a time when they should be roaring ahead on the back of national swing, shows Ladywood will not easily be turned blue.
Meanwhile, as the Tories are playing with pie charts, the Lib Dems (and even the Greens) are out regularly on the streets of Ladywood knocking on doors and actually engaging with the public.
To be talking about potentially winning a seat in public before you've put one idea forward to the people of the ward is sheer arrogance. And if there's one thing the folk of Ladywood despise, it's arrogant Tories!