On Sunday the closing party of the first ever SHOUT Festival took place at Birmingham's Nightingale Club, featuring lesbian comedienne Clare Summerskill and the brilliant talent of singer-songwriter Declan Bennett.
The LGBT cultural festival was the brainchild of the Birmingham LGBT Trust and has been run as a pilot with a view to sustaining a permanent event. I was asked to join the steering committee over a year ago because of my involvement in founding Birmingham Blaze Football Club in 2005 and running the Distraction alternative club night for three years. I was quick to accept as it seemed a great opportunity to help explore an alternative to the commercialised party that Birmingham Pride has become in recent years.
I co-led the sports strand helping to write a successful bid to Sport England, organised a gig night at Eden Bar and advised on the use of social media.
It's been hard work but the year of planning really paid off as the programme of visual arts, performing arts, sports and community events was successfully delivered. Highlights for me included the successful sports taster sessions, the DIVAS night at the Glee Club and Queer Question Time at the Hippodrome.
We'd really like to hear what you thought of the Festival, so please take the time to fill out a short evaluation if you attended one or more of the events.
Roll on SHOUT 2010!
It's been a busy few weeks for me and I've fallen behind with my blogging, so here are some of the things I missed from around the Jewellery Quarter: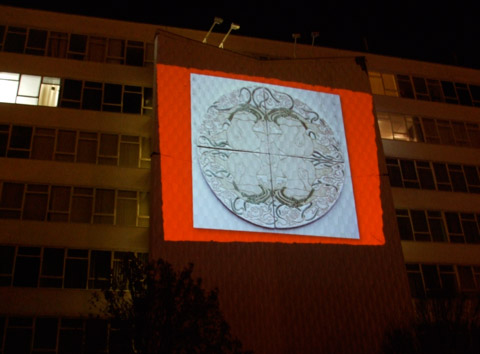 As part of Birmingham's SHOUT Festival, 30 LGBT artists from around the world saw their work projected on to The Big Peg (image above!). The Birmingham Queer Open drew entries from around the globe and selected artists represented countries as diverse as Canada, USA, Russia, Israel and Italy.

The Jewellery Quarter's farmers market, 24 Carrots, continues to do well. The Christmas special market takes place on Saturday 5th December.

An invite-only stakeholder consultation day for the Jewellery Quarter's "Golden Square" will take place on Tuesday 15th December.

You can view the latest proposals for Albion Square here.

The Vaults on Newhall Hill slipped into administration but it is hoped a buyer will be found.

Last week the Jewellery Quarter's themed Christmas lights were switched on and as is now custom, a three-legged Santa Race took place! MyJQ captured the fun on video: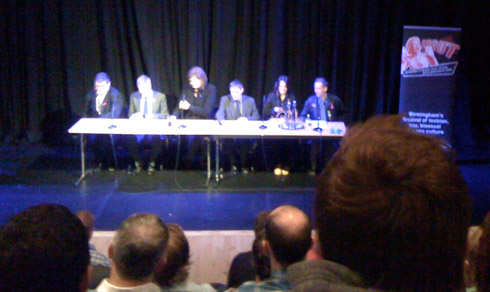 An all lesbian and gay panel took to the stage in Birmingham last night for Queer Question Time.
Peter Tatchell (Green) - Human rights activist and Parliamentary Candidate for Oxford East
Nikki Sinclaire (UKIP) - MEP for the West Midlands and candidate for her party's leadership
Iain Bowen (Lib Dem) - Birmingham City Councillor for Acocks Green ,
Philippa Roberts (Lab) - Parliamentary Candidate for Hereford
Gareth Compton (Con) - Birmingham City Councillor for Erdington
Chairman Steve Ball kicked off the debate, in the style of BBC's Question Time, in front of a decent crowd of around 150 at the Hippodrome's Patrick Centre. Audience members were asked to submit questions on the way in and as these things often do, the panelists and audience members then veered off into other directions during the debates. Some of the subjects discussed included equalities legislation, tolerance, gay pride events, the BNP, homophobia, education and section 28, the media and the police.
The panelists agreed on a lot of issues but there were some interesting clashes throughout.
Peter Tatchell was the clear winner for me. He barely touched on Green party policy, concentrating more on gay rights in general. He also spent much of his time picking up on the policies of the Labour government, doubtless with one eye on the political situation in Oxford East and Brighton Pavilion. Peter spoke well and was well received by members of the audience from every political hue.
Nikki Sinclaire caused less upset than her last "appearance" at Queer Question Time, but was still controversial. She appeared to defend her UKIP MEP colleague Mike Nattrass when he was accused (by both Gareth Compton and Iain Bowen) of being involved in the controversial New Britain Party (he stood as the "New Britain" candidate in Dudley West in 1994). She also did her best to dodge what specific policies UKIP have on LGBT rights. I found her overall attitude a mix of confrontation and naivety, which for someone with leadership aspirations surprises me.
Iain Bowen spoke well with good local knowledge and personal thoughts, rather than towing the party line, which I always like to see. Although he struggled with one or two questions I felt he put the Liberal Democrat position on equality across well. He was also passionate about the community and the police needing to work closer together, which prompted some heckling from the audience.
Philippa Roberts performed well defending the record of the Labour government on gay rights, for example civil partnerships, provision of goods and services, etc. However, she was uncomfortable when challenged (mainly by Peter Tatchell) on the current Equalities Bill working its way through Parliament.
Gareth Compton began very well but faded towards the end as he got drawn into bickering with Nikki Sinclaire. On more than one ocassion he made the verbal assumption that the next Government would be a Conservative one, which did not sit well with the audience. He also made the mistake of heckling Nikki Sinclaire for UKIP's European partners, not sensible considering the company the Tories keep.
For me the most interesting question was whether "gay pride" had replaced "gay politics". A lot of the battles have been won and therefore politics has fallen down the ladder when it comes to Pride events. But Birmingham Pride this year was far more party political than I remember it being for a long time. I helped to organise the Liberal Democrat presence, LGBT Labour also ran a stall and some Green party activists were in attendance too. In addition to this no less than THREE candidates in the upcoming European elections were there, Liz Lynne (Lib Dem), Nikki Sinclaire (UKIP) and Neena Gill (Lab).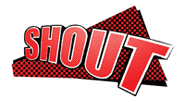 Peter Tatchell and controversial UKIP MEP Nikki Sinclaire are two of the panellists invited to participate in an LGBT discussion event as part of the SHOUT festival in Birmingham.
Queer Question Time takes place on Wednesday 11 November at the Patrick Centre, part of the Hippodrome Theatre complex in Birmingham.
All eyes will be on Nikki Sinclaire who was arrested the last time this event took place, prior to the 2005 general election. Her outburst during her election at this May's Euro count, accusing all members of the "Lib-Lab-Con" of being fascists (and then cheered off by the BNP), angered many activists in the LGBT community, so many are expecting another fiery evening.
Other invited guests include Birmingham city councillors Iain Bowen (Lib Dem), Gareth Compton (Con), with the Labour candidate yet to be announced.
200 tickets are available and these are expected to sell out fast. You can buy yours now for just £5 by clicking here.
I've just heard today that the inaugral SHOUT Festival has been awarded a grant from Sport England through their Small Grants programme. This adds to the grant already received from the Arts Council.
SHOUT is the first of its kind in Birmingham, a cultural festival celebrating and showcasing the growing, vibrant LGBT community. The first festival, to be held during November 2009, features visual arts, performance arts, sports and community events. I was invited by the organisers, the Birmingham LGBT Community Trust, to head up the sports strand following my previous experience in founding and developing Birmingham Blaze FC.
The Sport England grant will enable us to showcase the various opportunities available for LGBT people to get involved with sport, with the ultimate aim of increasing participation within the LGBT community. Birmingham Blaze FC, Moseley Shoals swimming group, Moseley ladies rugby club and a badminton group are all signed up and will offer taster sessions throughout November. The showpiece of the month will be our "Urban Sports Day" to be held on Hurst Street itself, proving there is life beyond the bars and clubs.
There'll be loads more information coming soon, watch this space!
In the meantime, you can join the Facebook group or mailing list, or follow the festival on Twitter.