It's been a busy few weeks for me and I've fallen behind with my blogging, so here are some of the things I missed from around the Jewellery Quarter: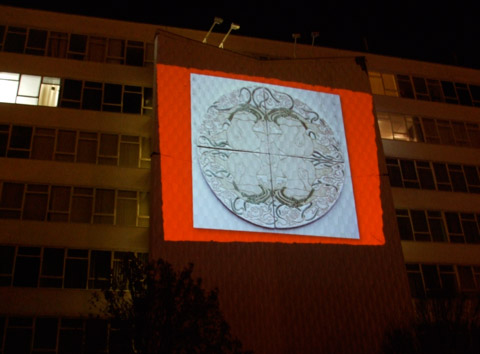 As part of Birmingham's SHOUT Festival, 30 LGBT artists from around the world saw their work projected on to The Big Peg (image above!). The Birmingham Queer Open drew entries from around the globe and selected artists represented countries as diverse as Canada, USA, Russia, Israel and Italy.

The Jewellery Quarter's farmers market, 24 Carrots, continues to do well. The Christmas special market takes place on Saturday 5th December.

An invite-only stakeholder consultation day for the Jewellery Quarter's "Golden Square" will take place on Tuesday 15th December.

You can view the latest proposals for Albion Square here.

The Vaults on Newhall Hill slipped into administration but it is hoped a buyer will be found.

Last week the Jewellery Quarter's themed Christmas lights were switched on and as is now custom, a three-legged Santa Race took place! MyJQ captured the fun on video: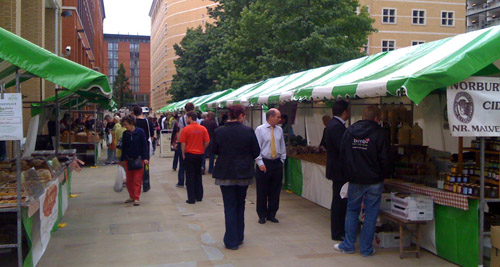 Yesterday I popped in to the monthly produce market at Brindley Place to stock up on fresh bread, vegetables and other goodies. I got chatting to Martin from Halfpenny Green Vineyards in South Staffordshire.
They diversified from farming into wine when I was just two years old and now have a thriving vineyard and craft centre, selling their wines from their shop and at farmers' markets across the Midlands.
I am now the proud owner of a rather lovely bottle of raspberry wine and they are now the proud owners of lots of information about 24 Carrots - the Jewellery Quarter Farmers' Market!
The city of Birmingham has the largest provision of allotments of any local authority in the UK with over 7,000 plots. But there is absolutely nothing for the people of Ladywood ward!
The situation isn't much better across the constituency either, with just one solitary site in Soho ward. For the unaware, Birmingham Ladywood constituency (Ladywood, Soho, Aston, Nechells) has the highest percentage of families in the UK living below the official poverty line. When the recession struck, Birmingham Ladywood was the worst affected constituency in the entire country. Bearing these facts in mind, is it not astonishing that there is just one Council allotment for the entire constituency?
The benefits to families below the poverty line could be immense. Growing your own food is cheaper and the potential health benefits are huge.
The Liberal Democrats have a track record of implementing allotment expansion plans in urban areas such as Islington and Sheffield. There is no reason at all why our Liberal Democrat partnership council here in the second city can't follow their best practice.
Today I have written to various folk at the Council and Heart of Birmingham PCT to encourage them to consider supporting further allotment sites in Ladywood.
One of the (few!) complaints of living in the Jewellery Quarter is the lack of local shops selling fresh produce. The Tesco Express is good at what it does, but from time to time we all crave fresh fruit & veg, fresh meat and that personal touch.
But fear not, for salvation is here! On Saturday 4th July come on down to the square in front of The Big Peg (click for map) for the launch of the Jewellery Quarter Farmers Market, called (of course) 24 Carrots.
The market was the brainchild of a local resident and has been driven by a sub-group of the Jewellery Quarter Neighbourhood Forum. They've done a sterling job and I believe nearly 30 stallholders are signed up. Check out the 24 Carrots website for more information.
Whilst I appreciate this is no substitute for a local butchers, bakers and greengrocers, it is a positive move. Before I moved to the Jewellery Quarter I lived above a butchers shop and a greengrocers so I ate fresh food nearly every day. With city centre living it's so easy to fall into the trap of takeaway after takeaway. 24 Carrots should remind some people that fresh food exists, can be easy to get hold of and of course, tastes great. Full marks on the healthy eating scorecard, folks!
If you need any further encouragement, the 24 Carrots Launch coincides with the Jewellery Quarter Festival in St Paul's Square, featuring live jazz and classical music, a jewellers market and Matthew Boulton
themed heritage activities.
There is no excuse not to visit the Jewellery Quarter on Saturday 4th July!