St. Paul's Church in the Jewellery Quarter opens its doors for a number of Christmas concerts this month.
On the lunchtime of Tuesday 15th there will be community carols, followed by a service of nine lessons and carols with the Birmingham Bach Choir on Sunday 20th.
The church will also be open for midnight mass on Christmas Eve from 11.30pm and a Christmas Day service at 10am.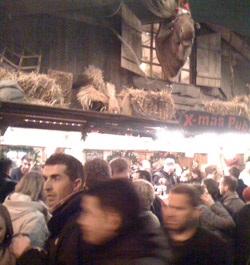 A few weeks ago the German Market arrived in Birmingham - Christmas is officially here! Selling the usual trinkets, toys, gifts, food and drink, the market has already drawn huge numbers and we've only just entered December.
Despite the price rises there seems to be a friendlier, more jovial atmosphere at the market this year, perhaps people getting into the festive spirit after a troubled year?
There had been complaints from local publicans that the market takes trade away. But what happens when the market closes at 9pm? People make their way to the pubs!
The market is open from 10am - 9pm every day until 23rd December.
It's been a busy few weeks for me and I've fallen behind with my blogging, so here are some of the things I missed from around the Jewellery Quarter: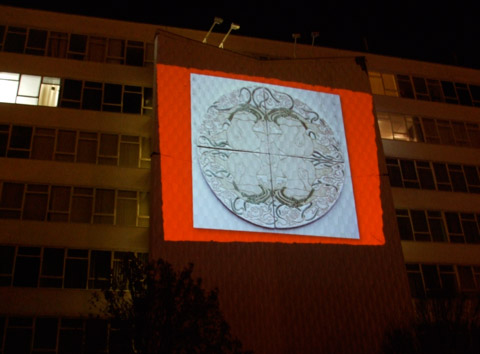 As part of Birmingham's SHOUT Festival, 30 LGBT artists from around the world saw their work projected on to The Big Peg (image above!). The Birmingham Queer Open drew entries from around the globe and selected artists represented countries as diverse as Canada, USA, Russia, Israel and Italy.

The Jewellery Quarter's farmers market, 24 Carrots, continues to do well. The Christmas special market takes place on Saturday 5th December.

An invite-only stakeholder consultation day for the Jewellery Quarter's "Golden Square" will take place on Tuesday 15th December.

You can view the latest proposals for Albion Square here.

The Vaults on Newhall Hill slipped into administration but it is hoped a buyer will be found.

Last week the Jewellery Quarter's themed Christmas lights were switched on and as is now custom, a three-legged Santa Race took place! MyJQ captured the fun on video: