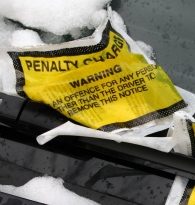 The battle against rogue car clampers in Birmingham took a step forward last week.
Four men were arrested following a fraud investigation into Car Clamping Securities (CCS) by the city's Trading Standards and West Midlands Police.
Trading standards had received over 56 complaints from residents, mainly that their cars had been towed away despite them paying to park. A tow truck owned by the firm was also seized in the operation, from Eyre Street in Ladywood.
Earlier this year the Liberal Democrats called for an end to clamping on private land and launched the website Ban Rogue Clampers.

The Birmingham Post's recent headline proclaiming that Birmingham's social media reputation continues to grow has been backed up the success of citizen journalism project Help Me Investigate.
The new tool, aimed at helping citizens get answers, was set up by, amongst others, Birmingham social media celebrities (!) Nick Booth and Stef Lewandowski. It's supported by Screen West Midlands and 4iP.
One resident wanted to know where the most ticketed streets were in the city. Using the knowledge pooled on the website, she was able to obtain the figures which were then collated and processed by another user.
The ten most ticketed streets in Birmingham for the year were:
(Ladywood ward highlighted in bold)
Alum Rock Road, Washwood Heath (3,995)
Stratford Road, Sparkhill (2,418)
Corporation Street, city centre (1,748)
Alcester Road, Moseley (1,545)
Waterloo Street, city centre (1,455)
High Street, Harborne (1,391)
Gas Street, city centre (1,083)
Whittall Street, city centre (1,022)
St Paul's square, Jewellery Quarter (1,008)
Dean Street, city centre (978)
Last week I had a beer with a city centre resident responsible for collating and processing the data. His passion on the subject shone through, so much so that it gave me the impression there must be someone just like him, passionate about every topic imaginable, no matter how small. Help Me Investigate might just be the tool they need to get their answers.
Good job, everyone!
Most of the controversy about the planned expansion of Edgbaston Cricket Ground has related to the floodlights. Labour MP Roger Godsiff and Respect Councillor Salma Yaqoob have been particularly outspoken.
However, what about the impact of traffic on local residents? Balsall Heath dweller and podcast supremo Nick Booth filmed a mini-documentary highlighting the impact of a cricket match on the residential streets of Balsall Heath:
"It can be a right pain living near Edgbaston cricket ground. Because the club doesn't take repsonsibility for making sure there is enough good parking for people then the people living around the ground have to bear that responsibility instead. It means gridlock and frustration - all for a gentleman's game. How odd!"
Plans for the proposed Birmingham Aquatics and Leisure Centre include provision for parking within the NIA complex and proposals for a residents permit scheme on a nearby housing estate.
I don't know the cricket ground area particularly well, but I assume from Nick's video that there is no such permit scheme in place. The issue with implementing one would be the alternative parking arrangements. Perhaps the solution lies in a park-and-ride scheme from say Star City, or somewhere on the 45/47 bus route?