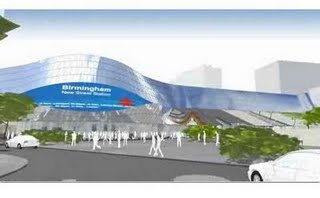 Today (Friday) is your last chance to comment on the proposed redesign of New Street station.
I fully support an overhaul of what is quite frankly an embarrassing gateway to Birmingham. A bold redesign such as this will undoubtedly be an enormous benefit for the city. Pop over to the website and have your say.
But let's not forget the issue of capacity on the track. I can't help but feel there's been a missed opportunity for rail capacity building a stone's throw away at Eastside. I would have liked to have seen a far more in-depth study of the "Grand Central" concept.
And as I've spoken about before, we simply must address local rail using Moor Street and Snow Hill stations wherever possible. Reopening the Camp Hill line using Moor Street station is a great place to start.
It's also interesting to read the following, buried in the FAQ: "the Gateway scheme was designed to accommodate the extension of the Metro scheme"