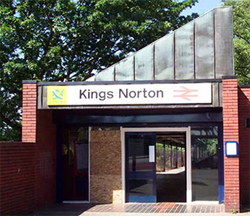 Over recent years much has been made of the potential to reopen the Camp Hill railway line from Birmingham city centre to Kings Norton, via new stations at Moseley, Kings Heath and Hazelwell. I know many Liberal Democrat members in Birmingham and readers of this blog are fans of this project.
Well folks, it's now or never.
A wide-ranging consultation on rail travel in the West Midlands comes to an end on 11th September. If you've not had your say by then, the opportunity to reopen the Camp Hill line may be lost.
To reopen this line, a new chord would have to be built at Bordesley into Birmingham Moor Street station, so along with three new stations plus work at Kings Norton, there is significant cost attached to the project. However, the new chord would open up the potential to route more services (such as Birmingham to Nottingham) through Moor Street station, freeing up the congested New Street. Not to mention the benefits for those living or working in Moseley, Kings Heath and Hazelwell.
Take a look at Centro's Draft Development Plan. You can register your support for the prioritisation of the Bordesley chord and Camp Hill passenger line by emailing rdpfeedback@centro.org.uk