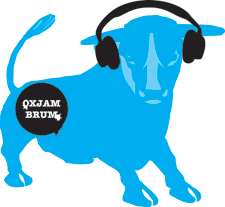 This Saturday finally sees the showpiece event of the Oxjam Brum festival, as six of Birmingham's premier gig venues turn blue to help fight poverty!
I'm proud to have been involved with this year's Oxjam as the Community Participation Coordinator, responsible for involving as many volunteers in the project as possible - through encouraging them to host their own Oxjam events to volunteering on Saturday.
The "blue faces" campaign (demand action on climate change until you're blue in the face) has been a huge success all through the year - and we're hoping to paint over 200 faces this Saturday! We'll also be promoting The Wave which takes place on 5th December, just before the crucial global climate change talks in Copenhagen.
The big names playing include Dinosaur Pile-Up and Tantrums, with a whole bunch of local artists performing alongside them, across the Flapper, Island Bar, Victoria, Basement, Sunflower Lounge and the Prince of Wales.
Tickets are still available online until Friday night and cost JUST £6! A ticket to see just ONE of these acts could cost more than that. It's an absolute steal, so be sure to get yours now! On the day you'll need to head to Basement Bar (next to Greggs at the Victoria Square end of New Street) to exchange your tickets for wristbands. You can also buy wristbands on the day.
See you there!