This Saturday saw the showpiece event of the Oxjam Brum festival as six venues, 40 bands and hundreds of gig-goers demanded action on climate change until they were blue in the face. We're still in process of counting all the money but early indications show we raised approximately £3,000 for Oxfam. AWESOME!
I looked after the volunteers on the day and was bowled over by their commitment to the cause, most people turned up early and worked far later than they had been asked to. They also persuaded the majority of punters to back the Oxfam "Here and Now" campaign by getting their faces painted blue. GREAT WORK!
I caught some of the acts at Island Bar, including Is I Cinema, Idiosync and Tantrums - all were great and all had big crowds. Northfield-based Tantrums are a band to watch with their hat-tip to Birmingham's musical past. They bought into the day big style, appearing on BBC WM's Janice Long show in the morning and hanging around supporting many of the other bands. If you want to check them out, they're playing the Flapper on 9th November with Youves.
We've had some fantastic feedback since the show but we'd welcome any more - positive or negative. I am hoping the nationwide festival as a whole is as successful as our event was and that Oxfam choose to continue it next year - I'd certainly be up for doing it again!
If you're wondering why we did all of this, please spend a few minutes browsing the Oxfam website which is currently dominated by the Here and Now campaign. Watch some of the video clips and please, sign up to the campaign and donate £1 a week, if you can afford it.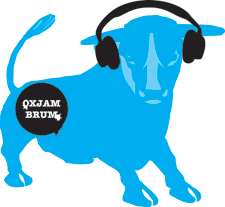 This Saturday finally sees the showpiece event of the Oxjam Brum festival, as six of Birmingham's premier gig venues turn blue to help fight poverty!
I'm proud to have been involved with this year's Oxjam as the Community Participation Coordinator, responsible for involving as many volunteers in the project as possible - through encouraging them to host their own Oxjam events to volunteering on Saturday.
The "blue faces" campaign (demand action on climate change until you're blue in the face) has been a huge success all through the year - and we're hoping to paint over 200 faces this Saturday! We'll also be promoting The Wave which takes place on 5th December, just before the crucial global climate change talks in Copenhagen.
The big names playing include Dinosaur Pile-Up and Tantrums, with a whole bunch of local artists performing alongside them, across the Flapper, Island Bar, Victoria, Basement, Sunflower Lounge and the Prince of Wales.
Tickets are still available online until Friday night and cost JUST £6! A ticket to see just ONE of these acts could cost more than that. It's an absolute steal, so be sure to get yours now! On the day you'll need to head to Basement Bar (next to Greggs at the Victoria Square end of New Street) to exchange your tickets for wristbands. You can also buy wristbands on the day.
See you there!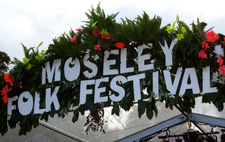 On Friday I had the pleasure of working on the Oxfam stall at the fourth Moseley Folk Festival at the beautiful Moseley Park. After a long day promoting the work of Oxfam and the Oxjam Music Festival, obtaining petition signatures and selling raffle tickets for a signed t-shirt, I got to enjoy some of the festival.
The highlight for me was the headliners Saint Etienne, who performed the whole of Fox Base Alpha before encoring with He's On The Phone. I also popped into the Real Ale tent for a couple of pints of Mad Goose. There's a very special atmosphere at Moseley Folk Festival helped by the limited capacity and family-friendly environment that some of the bigger festivals could learn from. The organisers did a fantastic job and by all accounts the rest of the weekend has gone well too. Good job all round!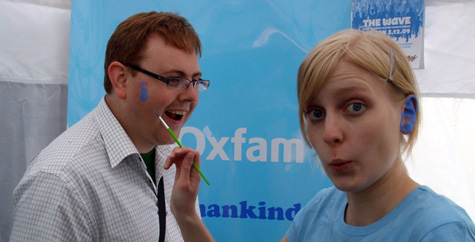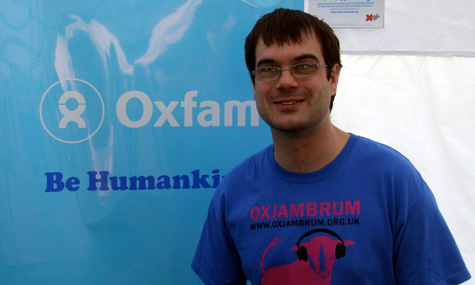 I've been installed as Community Participation Coordinator for the Oxjam festival in Birmingham, which takes place during October this year. Last weekend I attended the 2009 Oxjam conference here in Birmingham city centre. The conference was a great opportunity to remind ourselves of all the great work Oxfam does, talk about the Oxjam concept, learn from previous years and network with teams from other towns and cities. The event took place in Digbeth's Centre for Voluntary Action - a great venue.
Of particular note was a talk from John O'Sullivan who has a proud career in event management and latterly artist management. One delegate said John's one-hour talk was more useful than his three-year event management degree! Oxjam chief Benny Littlejohn spoke about his experience of seeing Oxfam's work in Sierra Leone. Most useful was the role specific training where I got to meet and share ideas with other Community Participation Coordinators from places such as Leeds, London, Manchester, Blackburn and Glasgow.
I'd be interested in hearing from anyone who would like to put on a fundraising event, concert, gig, comedy night, karaoke party, anything, here in Birmingham. Lots of support from the central team will be available, as well as a warm fuzzy feeling!
Equally, anyone who interested in volunteering to help with fundraising, campaigning, publicity or marshalling is very welcome to get in touch. Finally, if any community groups are interested in hosting a talk to find out more about Oxfam's work, particularly in the field of climate change, please let me know.
I say campaigning because this year's Oxjam is raising awareness for their Here and Now campaign, which highlights the human face of climate change. I'll write more about this and the plans for Birmingham in future weeks, but for now, check out this video which aired at this year's Glastonbury: