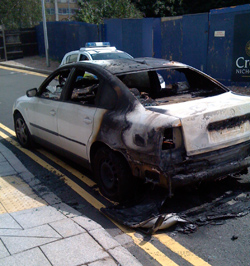 For part of today's mammoth FOCUS delivery day, we were in Attwood Green - always a great place to be when the sun is shining.
It was a shame then to discover this burnt out car on Rickman Drive, right outside the Etap hotel. Within a few seconds the local police arrived after being alerted by a hotel employee. From chatting to them it seems the car wasn't stolen, so it's likely to either belong to a local resident or someone staying at the hotel, or abandoned. As it was parked on double yellow lines, I suspect the latter.
Crime on Attwood Green has fallen by 9% over the last 12 months, but there are still issues with antisocial behaviour as there are across the ward.
If anyone has any information, please contact West Midlands Police on 0845 113 5000.