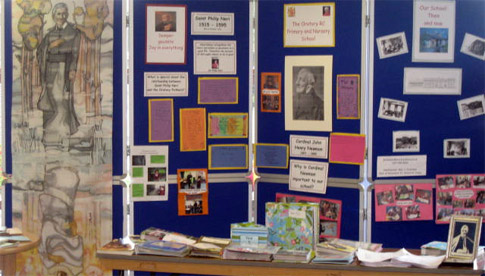 Last week I attended the launch of the Cardinal Newman Project at the Norman Power Centre in Ladywood. The project seeks to investigate the impact of Cardinal Newman and his work on the Ladywood area of Birmingham. It also aims to promote intergenerational learning. As well as obtaining information from elderly residents of Ladywood using techniques such as reminiscence, the children from the Oratory Primary School will be filming the various events and visits to produce a DVD of the project.
I was honoured to meet Father Sebastian and Father Anton from the Birmingham Oratory. Despite being openly secular in my beliefs, both were keen to hear about my involvement in the project and in particular my views on the area. I also met several parishioners of the Oratory and residents and management of the Norman Power Centre.
As part of the project steering group I have set up a simple website for the project to promote the work and events that are taking place. The site should make it easy for members of the steering group to give updates and for residents to contribute.
There was a lot of excitement about the potential visit to Birmingham of Pope Benedict XVI in 2010. If confirmed, the visit will bring a whole new meaning to the project and hopefully result in many more people benefiting from the project's work.