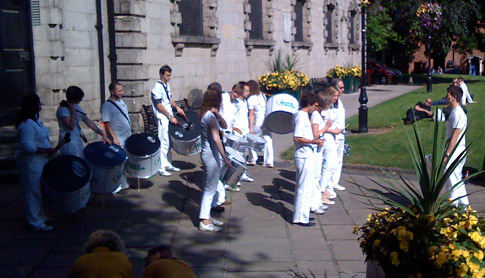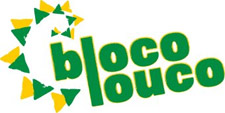 One of my personal highlights of ArtsFest this year was stumbling across a samba group as I wandered through St. Paul's Square. The sounds may have been Brazilian, but these folk come from the heart of Ladywood!
Bloco Louco is a community samba percussion group who hold weekly workshops at the Ladywood Arts & Leisure Centre. They were formed in 2007 and attract members from a wide cross-section of the community. They practice every Tuesday from 7.15 to 9.45pm. No prior experience is necessary so please do pop along if you're interested in learning more about samba.
As on Saturday, the Jewellery Quarter throws open its doors with open days at Key Hill Cemetery, the Museum of the Jewellery Quarter, St. Paul's Church, St. Paul's Gallery, the Pen Room and the RBSA. In addition, check out the following...
SUNDAY - 11AM, 12PM, 2PM - GUIDED CEMETRY WALKS
Key Hill Cemetery
Looking at those buried in the cemetery from Birmingham's past including the Bird family, Joseph Chamberlain and Robert Lucas Chance.
SUNDAY - 3.00PM - VOICES OF CITY OF BIRMINGHAM CHOIR
RBSA 2nd Floor Gallery
Mini-Concert
SUNDAY - 3.00PM - THIS BEAUTIFUL THIEF
St. Paul's Gallery
Intelligent indie pop.
The highlight of Sunday will be sets from Reverend & The Makers, Athlete and Birmingham's own Johnny Foreigner, all live in Centenary Square. Also worth checking out is "The Fear of Queer", a performance exploring homophobia from the Pink Space Theatre Company, ahead of November's SHOUT Festival.
SUNDAY - 2.30PM - BELLY DANCE ELEMENTS
The Flapper
Release the Goddess within. Bellydancing with a Bollywood mix!
SUNDAY - 3.35PM - THE NATIONAL SAXOPHONE CHOIR OF GREAT BRITAIN
Birmingham Conservatoire - Adrian Boult Hall
Sax to the Max. Auditory and visual saxophonic treat.
SUNDAY - 4.00PM - PINK SPACE THEATRE COMPANY
The Library Theatre
The Fear of Queer. An explosive, contemporary, theatrical exploration of homophobia, intolerance and prejudice through a fusion of physical theatre, movement, dance, music, lyrics and performance poetry.
SUNDAY - 4.30PM - RAINBOW VOICES
The Flapper
Birmingham's LBGT Community Choir.
SUNDAY - 5.50PM - JOHNNY FOREIGNER
Centenary Square Stage
Birmingham's own indie heroes.
SUNDAY - 8.45PM - REVEREND & THE MAKERS
Centenary Square Stage
Indie / funk / electro from Sheffield's finest.
SUNDAY - 9.45PM - ATHLETE
Centenary Square Stage
Award-winning indie-rock.
ArtsFest continues its weekend in the Jewellery Quarter, combining with Heritage Open Day Weekend events. The Museum of the Jewellery Quarter is open for tours, you can see work from Birmingham's contemporary artists at the RBSA Open Exhibition, visit The Pen Room, or have a wander around St Paul's Church and enjoy a BBQ!. Plus don't miss the latest work from Stan's Cafe at the A.E. Harris factory - "Giant Steps".
SATURDAY - 11.00AM - GUIDED CEMETERY WALK
Key Hill Cemetery
Looking at those buried in the cemetery from Birmingham's past including the Bird family, Joseph Chamberlain and Robert Lucas Chance.
SATURDAY - 1.00PM - MDCC THEATRE COMPANY
Key Hill Cemetery
The Hamlet Globetrotters. Comedy sketches based on Shakespeare.
SATURDAY - 2.15PM - SOMEONE-AT-THE-DOOR SAMBA BAND
St. Paul's Church
Brazilian-style Samba music.
SATURDAY - 4.00PM - THE LIGHTS
St. Paul's Gallery
Indie pop: imagine Elvis Costello writing for ELO fronted by James Dean Bradfield's younger siblings!
ArtsFest continues on Saturday with a fascinating world record attempt at forming the biggest bhangra dance group! You must register between 8am and 1pm in the Centenary Square dance marquee, with the main event taking place at 1.30pm. Other highlights include...
SATURDAY - 11.00AM - BIRMINGHAM LIBRARIES
The Library Theatre
Birmingham's Young Poet Laureate event.
SATURDAY - 11.00AM - BIRMINGHAM PHOTOSPACE
pARTicipate Marquee 2, Victoria Square
Have your portrait taken professionally. Professional photographers guided by the public will take as many portraits as possible of visitors to ArtsFest.
SATURDAY - 2.20PM - THE PLAY HOUSE
Birmingham REP - REP Door
Rainforest Symphony. Birmingham's dynamic participatory theatre company igniting children's imaginations.
SATURDAY - 3.20PM - ASTON PERFORMING ARTS ACADEMY WITH THE CBSO
Centenary Square Stage
Latino Grooves: Latin meets classical.
SATURDAY - 3.30PM - ROYAL SHAKESPEARE COMPANY
Birmingham Conservatoire Recital Hall
Voice / movement workshop for over 16's. Bringing Shakespeare alive for young people.
SATURDAY - 6.30PM - NEEDLESS ALLIES
The Old Joint Stock Theatre
City Living. Interactive exploration into people's travels.
SATURDAY - 7.30PM - THE BO DUDLEYS
The Yardbird
Britain's best boogie band!
SATURDAY - 8.00PM - CLASSICAL FANTASIA WITH CITY OF BIRMINGHAM SYMPHONY ORCHESTRA, BIRMINGHAM ROYAL BALLET AND BIRMINGHAM OPERA COMPANY
Centenary Square Stage
Enjoy world-class performances culminating in a spectacular fireworks display.
SATURDAY - 9.00PM - ASTRO-PHYSICS
Victoria Square Fountain Stage
Live hip hop, funk, drum n' bass.
ArtsFest comes to the Jewellery Quarter this weekend, kicking off on Friday.
FRIDAY - 5.00PM - STAN'S CAFé: GIANT STEPS
A E Harris Factory
Birmingham's internationally recognised theatre company, Stan's Café, present their new installation: do-it-yourself family theatre.
FRIDAY - 8.00PM - DANCING BEAR MUSICAL SOCIETY CHORAL & OPERATIC CONCERT
St. Paul's Church
Featuring A Capella Birmingham Chamber Choir and members of Instant Opera.
This year's incarnation of ArtsFest is about to kick off, so I thought I'd spend some time going through the highlights, starting with Friday's performances across the city centre.
FRIDAY - 1.15PM - CBSO PROMOTIONAL CONCERT
Symphony Hall
Lunchtime concert with City of Birmingham Symphony Orchestra's electrifying music.
FRIDAY - 4.30PM - BHANGRA WORLD RECORD WORKSHOP
Centenary Square Dance Marquee
Learn the dance steps for Saturday's World Record attempt.
FRIDAY - 5.25PM - SAMBA SPECTACULAR
Centenary Square Stage
Featuring Someone @ the Door Samba Band & Bloco Louco
FRIDAY - 7.00PM - THE FORTS OF KIMMY SUE ANNE... INNIT
The Prince of Wales
Chav comedy poet... Innit.
FRIDAY - 7.10PM - BEINGFRANK PHYSICAL THEATRE
Centenary Square Dance Marquee
Raging Skulls. Breath-taking dance, parkour and breakdance.
FRIDAY - 8.00PM - BBC BIG BAND
Town Hall
30th Anniversary Concert for BBC Radio 2. Britain's finest big band is joined by singing star Matthew Ford for a night of swing classics.
FRIDAY - 8.30PM - TALKING BROTHERS
The Old Joint Stock Theatre
Brothers need to talk. Unique and stimulating performance poetry.
FRIDAY - 10.00PM - BATTLE FOR PRAGUE
The Flapper
Bleary eyed uplifting baroque rock.