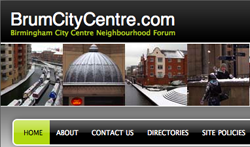 On Monday evening I was invited along to a committee meeting of the City Centre Neighbourhood Forum. The group have trouble communicating on a regular basis with residents of the city centre, because the vast majority live in private developments with door entry codes. I joined them for the first portion of the meeting, where I presented a few tips and tricks on getting the local community engaged via the internet and specifically blogging.
Before I left we discussed a number of other issues including the Broad Street BID.
If you live within the city centre boundary (as defined by the map below), I'd encourage you to bookmark the Neighbourhood Forum Blog.